The Gladstone-Whipple Family Picture Page
October 1999
WhippleWare just acquired a digital camera, and we've been having so much fun with it that we've decided to treat the world to family pictures. Great, huh? Well, maybe the world doesn't care, but the grandparents should get a kick out it (all four of them are now online). Also, we just got DSL, so we've already forgotten how long it will take most people to download these beauties. Unlike most things in life, broadband IS everything it's cracked up to be.
This is David Zadoc Whipple (6) and his sister Elizabeth Gladstone Whipple (almost 4). They look very serious because they're getting ready to do some serious demolition....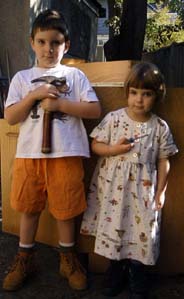 on WhippleWare's new international headquarters: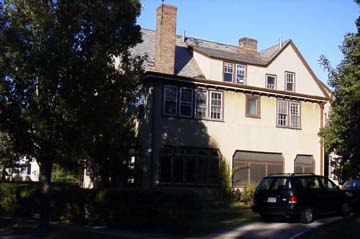 Built in 1908, it has been utterly neglected for the last 30 years and, not surprisingly, was a complete wreck when we bought it in May 1999. For example, the roof leaked in over 30 different places, and almost every window shown in the picture is about to fall off the house (I'm not kidding - one already did). So David's been helping remove the rotten windows: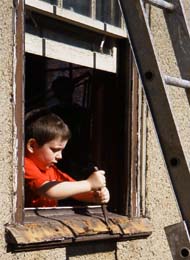 After I install the new ones, Carol gets to finish them off (being constitutionally unable to do only one thing at a time, she's simultaneously negotiating a real estate deal on line 1 and planning a Pokemon birthday party on line 2):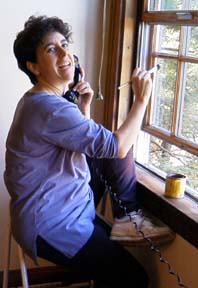 And you get to look through them at New England foliage and the rainbow that appeared outside my office last week.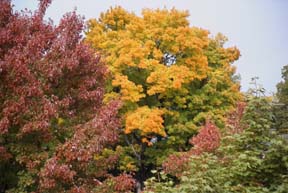 :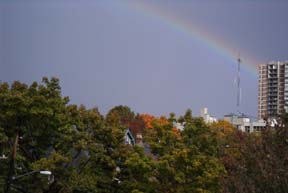 Oh, doting Dad has just a few more. Here's Liz the artist (when Liz is smiling and holding a marker, you really need to find out what she's been drawing on).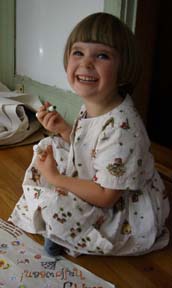 Here's a threatening biker gang in the neighborhood (David with best friends Lee and Joseph). David just lost the training wheels a month ago, but he's already a madman on wheels. Watching him and his buddies bomb around, Dad alternates between pride and terror.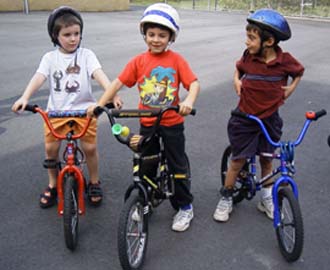 And finally, swinging Liz with her best friend Mimi: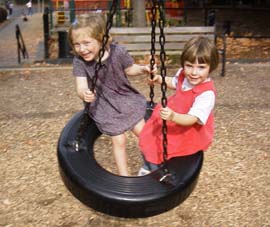 OK, that's it for the first edition of the GWFPP. Next month, we'll feature the boiler that almost blew up, surrounded by skunks, and the miracle roof that no longer leaks! Or maybe not.